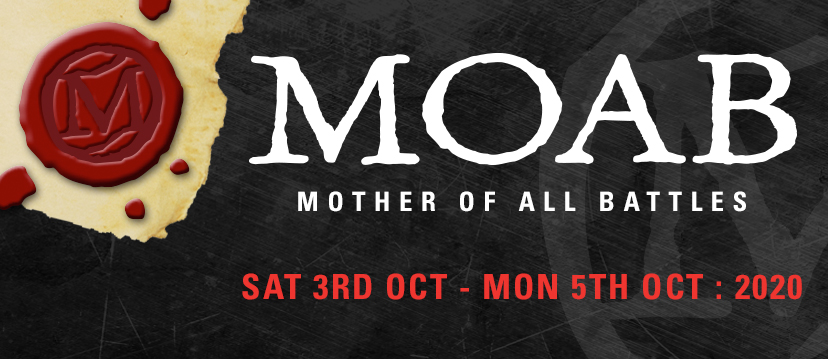 Due to the efforts of many people MOAB 2019 was a big success; we had a record 344 registrations with 274 on Saturday up around 24 on last year, 258 on Sunday being approximately 115 more than last year and 83 on Monday being 70+ more than last year.
There were a number of standout tournaments Warhammer 40K at 58 and presented by Chris Mouhtaris was biggest turnout for 40k for several years. There were good solid numbers for all tournaments including DBA, Infinity, Star Wars Legion, Blood Bowl, Malifaux, War machine and Hordes, ADLG and Sword and Spear.
In general the standard of table presentation has lifted significantly with very good efforts by Star Wars Legion, Warhammer40k and Infinity but the `eye-candy' award goes to John Pilatos for some stunning handmade terrain for Chain of Command.
We tried something different this year with role playing on Monday. This went very well with very good numbers for a first attempt with a return planned in 2020.
As always the Bring and Buy attracted the crowds especially on the Saturday when all hands were required.
I'd like to thank all the Traders who attended this year and especially those who contributed prize support to the various tournaments including but not limited to War and Peace Games and Aetherworks.
There were several popular participation games including `The Petit Race for Africa' by Sven and Frank, appealing to the younger crowd was various games by Craig and Carmel.
We had the future of gaming talk by Simon Hall which was well received; he will be coming back next year.
Remember we will be at CANCON 2020 running the Second Hand Stall – several changes have been made; we now take card payments, penalties for not using our forms and labels and a no bag policy for the stall. The website will be updated shortly.
Regards
Team MOAB