A Wargaming Life: Past, Present and Future.
Rule author Simon Hall talks about his past, the legends of the hobby who inspired him, his rule development philosophy, and his thoughts on how to make wargaming flourish in the 21st century.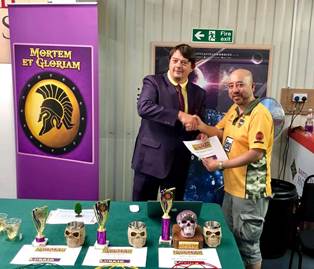 Simon Hall started collecting toy soldiers when he was 8 and played his first wargame at the age of 11 - and he was hooked. Like many he RPGed his way through university, and, after a slow period through his first 10 years of work as a business strategist, he returned to the hobby more seriously in 1994 and joined the UK competition circuit.
After winning the World DBM three times (2000, 2002, 2004), he was part of a team of three asked to create a set of rules for Osprey Publishing – creating Field of Glory. In 2016 he set up TheWargamesZone and published his first solo set of rules, Mortem et Gloriam, in 2016.

MeG has grown to well over 1000 players worldwide, has a strong following already her in Australia, and last year was voted no 2 Ancients ruleset on an FB poll. Over the coming years, Simon is publishing a full series of rules to cover all periods and encompassing both battle games and 1-1 skirmish games. Come along an hear him talk about the hobby and its future. For more about Simon go to

Simon Hall will be giving a talk on Saturday 1pm to 2pm.
Plastic Soldier Company to publish all Simon Hall games with figure ranges
Plastic Soldier Company is delighted to announce that it will be publishing all of Simon Hall's future wargames rules. Simon first published as a co-author of Osprey's Field of Glory and in 2016 published his own Mortem et Gloriam, which has established itself already as a firm favourite with Ancients players around the globe.
PSC's Founder Will Townshend comments, "Having played Mortem et Gloriam, and several of his other games in development, I am convinced that the colour system Simon has developed has great potential across all periods and all battle games. It is easy to learn, fun to play and takes a lot of the brain-strain away from determining command and combat results. We are looking forward to giving Simon's games a big push and we will be adding figure and model ranges to go with each game."
Simon Hall adds, "I have known PSC for many years, admired their WW2 ranges, and found in Will and his team fellow enthusiasts for the hobby. This partnership will get my rules on the shelves of game shops all around the world and will allow me to concentrate my time on the development of game systems. It's very exciting to have the prospect of dedicated figures and models for my games and I am looking forward to working with Will and his team."
Our first products together will be the Mortem et Gloriam Compendium which allows Mortem et Gloriam to be played in three sizes, ranging from a 20­–30 base compact version of the game playable on a small tabletop to the full 70–100 base big battle version. This will be followed by Men of Steel, a WW2 mass skirmish set for 20–28mm.
We'll bring you further exciting updates and more details very soon!