A Wargaming Life: Past, Present and Future.
Rule author Simon Hall talks about his past, the legends of the hobby who inspired him, his rule development philosophy, and his thoughts on how to make wargaming flourish in the 21st century.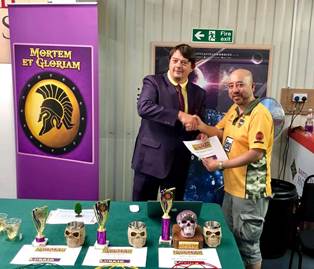 Simon Hall started collecting toy soldiers when he was 8 and played his first wargame at the age of 11 - and he was hooked. Like many he RPGed his way through university, and, after a slow period through his first 10 years of work as a business strategist, he returned to the hobby more seriously in 1994 and joined the UK competition circuit.
After winning the World DBM three times (2000, 2002, 2004), he was part of a team of three asked to create a set of rules for Osprey Publishing – creating Field of Glory. In 2016 he set up TheWargamesZone and published his first solo set of rules, Mortem et Gloriam, in 2016.

MeG has grown to well over 1000 players worldwide, has a strong following already her in Australia, and last year was voted no 2 Ancients ruleset on an FB poll. Over the coming years, Simon is publishing a full series of rules to cover all periods and encompassing both battle games and 1-1 skirmish games. Come along an hear him talk about the hobby and its future. For more about Simon go to

Simon Hall will be giving a talk on Saturday 1pm to 2pm.