Activities
Looking for something to do with the family on the long weekend? Well drop in to MOAB and there are lots of things to keep you occupied whether you are a seasoned gamer or new to the hobby and games and want to check it all out.
There is additional parking behind the main building on the lower soccer fields. There will be signs indicating where to park.
General entry to MOAB is FREE, although tournament play involves a fee.
First up, we will keep you fed and watered at the fully licensed canteen – awesome food and drink to buy at low prices.
If shopping is your thing (or you have stuff to get rid of) then visit the Bring and Buy or any of the many Traders we have all in one convenient location.
---
Paint & Take
Brought to you by Team MOAB and Aetherworks
Learn to paint miniatures! Paints, brushes, and a free miniature for every participant have been provided by Reaper Miniatures. Painters of all skill levels welcome – just choose a figure, paint it up and take it with you when you're done. Sunday only – 9am-5pm.
---
Painting Competition
Brought to you by Aetherworks
For the painters out there, Aetherworks will be running a Painting Competition, details of which can be found on the Painting Competition page.
---
Simon Hall Talk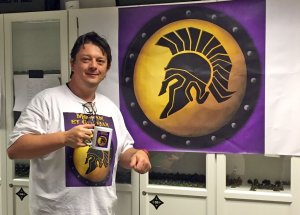 We are excited to announce that Simon Hall will be giving a talk on Saturday 1pm to 2pm in the level one lounge. Simon Hall is the author of Mortem et Gloriam, one of the three authors of Field of Glory, three time DBM world champion, and is the owner of Lurkio Miniatures.
Simon will wrest himself away from the Mortem et Gloriam tournament to talk about his 40 years of wargaming, rule writing in the 21st century, and the future of the hobby.
This is a unique opportunity. No registration is required.
---
Participation Games
To keep you busy at other times (and between games for those playing in an event) there are many Participation Games you can join in with.
They include these Participation Games:-
The Petit Race for Africa
Saturday & Sunday

Somehow overlooked by both explorers and surveyors alike during the great partition of darkest Africa, lays an insignificant parcel of unclaimed land, ignored until recently by the European powers. Newly discovered and defined by the eccentric French explorer, Jean-Baptiste de Pain-Perdue, who announced his findings openly to the world and then promptly disappeared, the discovery of this insignificant parcel of land has spurred a second, albeit petite, race for Africa by those nations who covet it The doctrine of the Berlin Conference still holds true although - cultured society demands that there are rules to be followed when "annexing" an innocent's land!

Yet the insignificant parcel of land is far from uninhabited. The land is home to native tribes, both noble and warlike, who have already witnessed their lands ravaged by nefarious slave traders. These sellers of men have taken many slaves, the daughter of the head chieftain amongst them, their miserable trade being plied from a slaver tembe that sits festering like a cancerous wound by the river. What will happen when the White Man arrives?

Play as the dastardly Belgians, the stiff upper lipped British, the steadfast French, the imperialistic Germans, the devious Zanzibar Slavers or their crafty Baluchi allies, the noble and savage Watumbi, or the hashish addled Ruga-Ruga, in this 8 player participation extravaganza.

This game will be run twice, once on Saturday 5th and once on Sunday 6th of October, starting at 12pm sharp, until conclusion. The game is expected to run for the entire afternoon.

Rules will be light, with emphasis on player interaction, including much negotiation and manipulation.

Victory will be achieved by the faction that can successfully complete as many of their objectives as possible, the objectives of which are rarely as simple as the annihilation of an opponent.

Places are limited and registration is essential.

Presented by Sven De Braekeleir and Frank Sultana.

---

THERE BE MONSTERS
Saturday & Sunday

Carmel and Craig Table Top Versions (CCTTV) present for your participation at MOAB 2019- THERE BE MONSTERS

THERE BE MONSTERS – The ship lies motionless on a mysterious sea. There has been no wind now for days. Something is stirring in the azure waters surrounding the "Great Adventurer." Whatever comes from the depths will you, as part of the crew, be ready.

THERE BE MONSTERS – is a game for up to eight players to save the ship. The objective is to keep the ship afloat long enough for the winds to arrive. There will be many assailants such as the dreaded Fish Men, Pirate Raiders and the monstrous Kraken that will be out to sink the "Great Adventurer."

So join your fellow crew mates and help save the "Great Adventurer" from a watery grave.

Participation is free

There Be Monsters will be run from 9.30am till close on Saturday, Sunday and Monday of MOAB 2019.

---

MEGAFAUNA NOW
Saturday & Sunday

Carmel and Craig Table Top Versions (CCTTV) present for your participation at MOAB 2019- MEGAFAUNA NOW

MEGAFAUNA NOW - The time of Dinosaurs has passed. The Ice is receding in the valley and life has been good, so good that the new residents have grown large. They are referred to as Megafauna. What has not changed in the valley is the competition between species. Return now with us to the Quiet Valley to see just who is in residence and who is the ultimate Megafauna.

MEGAFAUNA NOW - is a game for up to eight participants in fights to the finish using megafauna miniatures. Present will be some well-known megafauna such as the Woolly Mammoth and the Woolly Rhinoceros as well as some lesser known participants such as the Marsupial Lion and Megacerops

There are three scenarios
1. What's to eat - Carnivores vs Herbivores vs Omnivores
2. Survival of the fittest – All megafauna for themselves
3. All for one – The invasion of Homo sapiens. All megafauna work to rid the Quiet Valley of the humans.

So be there and let the extinctions begin. Oh and keep an eye out for disasters.

Participation is free

Megafauna Now will be run from 9.30am till close on Saturday, Sunday and Monday of MOAB 2019.

---

The War of the Fifth Coalition – the 1809 Campaign
Saturday & Sunday

This 15mm Napoleonic Battle participation game will take place during the 1809 Campaign in Austria/Bavaria probably Eckmuhl or Ebensberg using a Battalion version of the `Commit the Guard' rules.

---

A Song of Ice & Fire: Tabletop Miniatures Game
Saturday & Sunday

A Song of Ice & Fire Miniatures Game is a competitive tabletop miniatures game for two or more players. Each player controls one of the Great Houses of Westeros, commanding battlefield units, recruiting legendary Heroes, and manipulating the political stage, in the attempt to claim the greatest prize of all: The Iron Throne.

Battles can range from large-scale wars with hundreds of miniatures to simple skirmishes between a few units without complicating the elegantly designed rules. The game features several unique systems, including alternating activations that keep the players engaged; a Rank System that changes a unit's capabilities as the battle rages on; a Tactics System that provides strategic powers fuelled by a finite resource each round; and, most importantly, the iconic Heroes, such as Robb Stark and Jaime Lannister, that can change the course of war both on and off the battlefield.
Presented by Matthew Lund.

---

Star Wars X-wing Miniatures Game
Saturday & Sunday

Have you ever wanted to pilot the Millennium Falcon? Slave I? Luke's X-Wing? Vader's Tie Fighter?

Control the most advanced starfighters and outstanding pilots in the galaxy! In X-Wing Miniatures Game, you take the role of squad leader and command a group of merciless Imperial or daring Rebel pilots in furious ship-to-ship space combat.

Featuring stunningly detailed and painted miniatures, X-Wing recreates exciting Star Wars space battles from small engagements of only a couple of craft to large conflicts where multiple squadrons clash.
Presented by Matthew Lund.

---

Armoured Digital
Saturday & Sunday

Program your drones. Lead them into battle. Build replacements.

Armoured Digital Miniatures Game is an innovative and deep skirmish miniatures game where players take on the role of a Digipath, able to reprogram computers by instinct and trained to fight for their cause. There are many paths to victory: superior mobility, brutal firepower, cunning use of sensors and communications or even invasive reprogramming of enemy tanks.

Armoured Digital is a wargame where you're never truly out of the fight. Intuitive, flexible options and the ability to build units mid-game make for a challenge that is easy to learn but hard to master.

---

6mm Napoleonic Gaming – Demo Game – Blücher
Saturday & Sunday

Blücher is a tabletop game of great battles in the Napoleonic Wars by Sam Mustafa. Players takes the role of a general commanding a large army in a famous or fictional encounter. Units represent large forces such as brigades of infantry or cavalry and concentrations of massed artillery.
Blücher is fast-paced and can be played at various scales – at MOAB, the game will be demonstrated in 6mm scale only. Why this scale? Simply, no other scale gives the same sense of the vastness and size of Napoleonic era battle, and you'll be amazed at the level of detail in the painting that can be achieved at 6mm.

The game at 6mm scale is affordable, easy to paint and assemble – getting you onto the table quicker. The Blücher rules are straightforward and easy to learn, but with some twists and nuances that make for a great level of complexity that doesn't overwhelm the gaming experience. The Scharnhorst Campaign System is an advanced game feature designed into the game introduces a great dimension which positions the troops for the coming battle.

Come and have a go.

Click here to learn more about the Blücher game.

---

Brigade Fire and Fury 2nd edition
Monday

We are offering an all in bash of American Civil War with 15mm using the newish Brigade rules for 2nd Edition Fire and Fury written by Rich Hasenauer.

Choose your side (there can only be one- go the mighty Rebs).

To keep the admin to a minimum on the day we will put together some ORBATS prior to the day.

It will take place on Monday in the main Hall of the MOAB complex. Administration starts at 9am for a 9.30/10am kick off.

So that we can ensure that we have a sufficiently large table, miniatures and know roughly how many on each side, please contact the MOAB Organiser if you wish to participate. If you can assist with miniatures that would be appreciated, though we do have a large group collection and may be able to provide.

Olympian Games will be offering on the Monday only a 10% discount on F&F products (rulebooks, scenario books, template sets) to participants and spectators alike.

---